ReNTOX 200U | 99.6% Purified Botulinum Toxin Type A Complex | Innovative Drug Premium Class | Better Botox Injections

ReNTox™ 200 units is an innovative drug (botulinum toxin) type A premium class. It appears as a lyophilized white powder for injection in a colorless transparent vial and should become colorless transparent liquid when the diluent (normal saline) is added.
This drug has gained great popularity in clinics of South Korea and Japan due to several advantages:
3D effect: the patient feels the result already for 3 days, the duration of action is 6-8 months
Composition: the improved formula of the preparation does not contain: proteins, albumin, gelatin, compared with other similar drugs.
Diffusion: has the least diffusion among all botulinum toxins currently known.
Each vial contains
Clostridium botulinum toxin type A (in house) 200 Units
Human serum albumin (EP) 0.5 mg
Sodium chloride (EP) 0.9 mg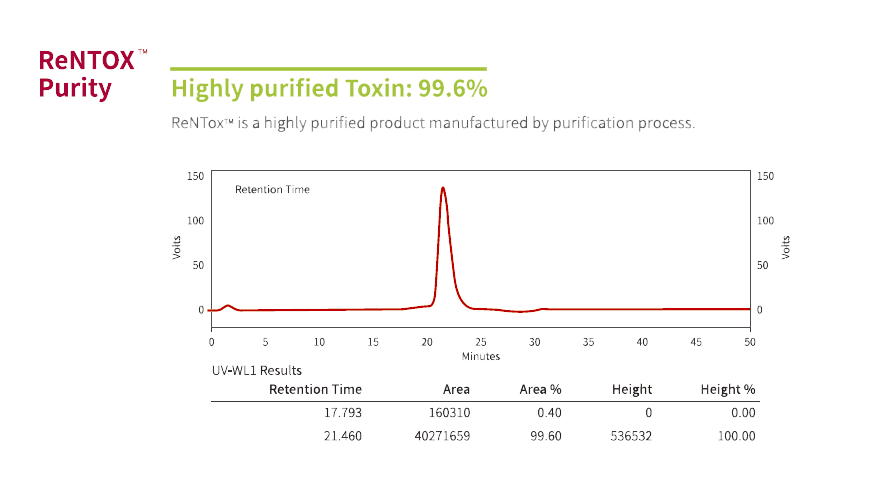 Indication
– correction of facial wrinkles.
– blepharospasm;
– hemifacial spasm;
– cervical dystonia (spastic torticollis);
– focal spasticity of the wrist and hand in stroke patients;
– paralytic strabismus (squint);
– local muscle spasm in cerebral palsy in children aged 2 years and older;
Application
Temporary improvement in the appearance of moderate to severe glabellar lines associated with corrugator and/or procerus muscle activity in adult patients aged between 18 and 65
Contraindications, Complications, Possible side effects: 
hypersensitivity to the components of the composition;
pregnancy and lactation;
inflammatory processes on the skin in the target area;
bleeding disorders;
herpes, as well as any infectious and chronic systemic diseases in the acute stage;
fever;
diabetes;
oncological diseases;
pronounced hernial protrusions on the lower and upper eyelids;
myasthenia gravis (Myasthenia Gravis) – an autoimmune disease that causes chronic muscle fatigue syndrome;
age before 18 and after 65 years.
Injections of the drug should be carried out by a qualified doctor who has undergone a training course.
Storage
The unopened lyophilized vial should be stored in a refrigerator (2-8°C).
Release form: 1 bottle / 200 units. The drug is a lyophilized white powder for injection, in a colorless transparent bottle, when diluted with saline, it is a clear liquid.
How supplied
ReNTOX 200U is supplied in a single-use vial.
Expiration
The shelf-life is 36 months from the manufacturing date.