EMSculpt Max | Non-invasive HI-EMT Technology Body Contouring Machine | The Most Advanced Option to Reduce Fat and Build Muscle | Max support 4 Handpiece + 1 cushion

EMSculpt Max is the 3rd generation machine using non-invasive technology using HI-EMT(High-Intensity Electromagnetic Trainer) energy to promote the muscles to contract at their peak power and ability. This high-intensity muscle workout leads to the remodeling and enhancement of muscles, as well as effective fat burning
Features
Safe and effective for body shaping.
Comfortable treatment with effective results.
Support 4 handpieces plus 1 Cushion
Applicators can be controlled separately.
Two RF tips for small and large areas treatment
10-inch touch screen
Powerful EMSculpt machine with 4 handles plus RF Function
Technologies
Advanced Hydrafacial Jet Peel Technology
What is EMS sculpting?
Electric muscle stimulation or electric magnetic stimulation (EMS), a technology used to reduce fat and build muscle, has regained popularity in recent months.
It is a medical technology that is used in aesthetic medicine, urology, and gynecology and uses focused electromagnetic fields with safe intensity levels.
The electromagnetic fields pass non-invasively through the body and interact with motor neurons, which subsequently trigger muscle contractions.
This non-invasive body-contouring technology not only burns fat but also builds muscle, while at the same time improving strength and endurance levels.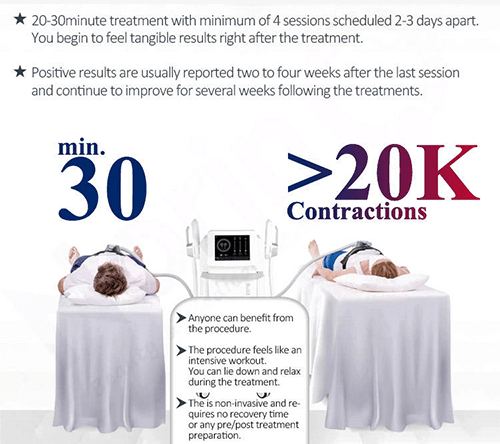 Emsculpt uses cutting-edge technology to tone your body and help eliminate fat. It uses electromagnetic energy to get the muscles to contract in the area you're treating. The technology induces 20,000 supramaximal muscle contractions not achievable through voluntary contractions—compared to doing 20,000 full contraction crunches or squats in 1 session.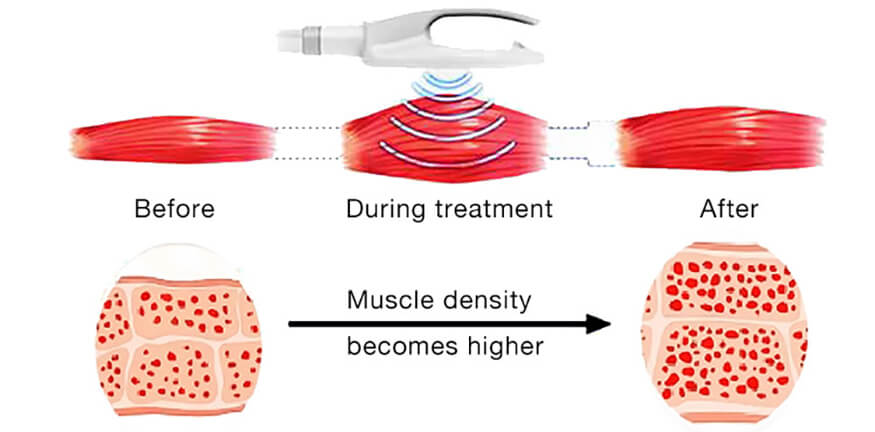 Muscle Building
Body Shaping
Non-invasive Hip Augmentation
Skin Tighten (With RF Function)
Pelvic floor muscle building (With Cushion)
EMSculpt Max
Power Supply
AC220V±10%, 50Hz; AC110V±10%, 60Hz
Display
10 inch LCD Touch Screen
Max Power Consumption
5000W
Hand piece
4pcs Handpiece(Default)
Pelvic Floor Muscle Cushion (optional)
RF function(Optional)
Magnetic vibration intensity
7 Tesla
RF temperature (Only with RF version)
40~50℃
RF Frequency (Only with RF version)
40.68MHz
Output frequency of Magnetic
resonance wave
3 - 200HZ
Fuse
20A
Host Size
46×60×105cm
Size of flight shipping case
56×66×116cm
Gross weight
90Kg
OEM Service
MOQ over 5pcs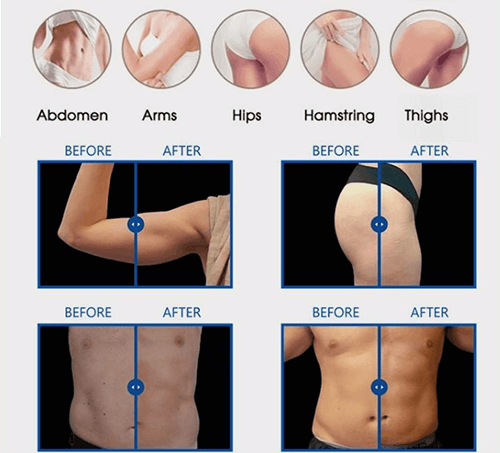 We have a laser technician/engineer with us at the moment who is going through all the equipment we received from GBS to ensure the outputs and all in good order so that we can get working. His general consensus is that the machines are of a better standard than he has seen on some other Chinese machines. We told him that is why we elected to go with GBS.
Just wanted you to know that i received the machine and it is working well. I am very happy with it.
Thank you for staying in touch. We are very pleased with the performance of the cavitation machine.  We will be placing in order soon for another machine.
Just thought I've give you some positive feedback about the cavitation machine. I've used it on myself about 5 times now and have lost over half a stone (around 8 pounds). I really like the machine and it's really comfortable to use.