NEW PROtoner | Professional Microcurrent Facial and Body Toning Device | Newest bio Microcurrent Face Lifting | Rechargeable
NEW PROtoner Handheld facial toning device that is clinically tested for visibly improved facial contour, skin toning, and wrinkle improvement, for youthful-looking skin. It is a safe and effective technology for clients who wish to attain and maintain a healthier, younger looking appearance. The results can be so dramatic that microcurrent treatments are often referred to as the "5 Minute Facial-lift."
Facial Toning Device delivers beautiful, unparalleled professional results in an easy-to-use at-home system. It is clinically tested to improve the appearance of facial contour, skin toning, and wrinkles. It features a smart skin sensor and interchangeable attachments to enable a variety of spa-quality therapies at home.
Features
With Microcurrent skin toning technology, 

help skin lifting and improve the face figure

Massage the skin with thousands of vibration per minute, 

accelerate the absorbtion of skin care products

Medical-grade Stainless Steel Massage heads, 

Permanent antioxidant, Tough, Corrosion resistance

Seperate base

 makes it easy to hold the device

Adjustable energy level, 

Suitable for different skin type

Rechargeable with USB (TYPE-C) interface, 

easy and convenient to charge anywhere anytime

Portable, w

ith a 170g body, easy to take it in a pocket

Automatically turn off after 20 minutes

5 minutes a day, 

Enjoy your much more youthful look
Technologies
Advanced Microcurrent  Technologies
1. What is Microcurrent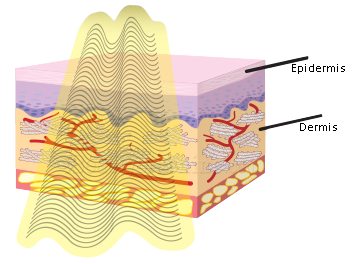 Microcurrent is one of the hottest innovations in the anti-aging industry and is used in top spas and medical offices for facial contouring, toning and firming of aging skin. Microcurrent is a low-Level, alternating current that typically operates in the range 0-400 microamps. Microcurrent technology is one of the hottest innovations in the anti-aging industry and is used in top spas and medical offices to perform facial sculpting – tightening, toning, and firming of aging skin. The results can be so dramatic that microcurrent treatments are often referred to as "non-surgical face lifts"
2.How does microcurrent work?
Microcurrent works by targeting the muscles under the skin that cause our facial skin to wrinkle and sag. As we age, our muscles become accustomed to certain expressions and tend to "stick" in these positions. A great example of this is the furrows between the eyebrows. At the same time, other muscles in our face are hardly ever used, and they begin to atrophy, which leads to sagging. An example of this can often be seen around the jaw lines, chins and necks where we tend to develop sagging or loss of definition as we get older.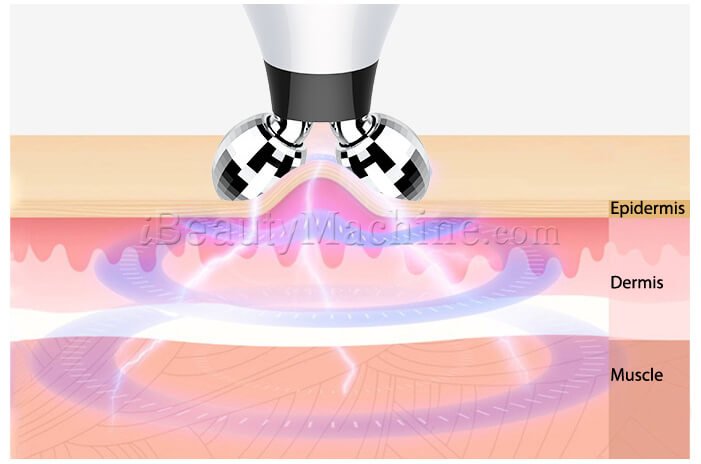 Microcurrent facial toning devices send soft, gentle waves in forms of positive ion and negative ion to the muscles in your face that help relax overly tightened muscles and strengthen under-worked muscles. In essence, microcurrent facial toning "re-educates" the facial muscles and works to restore them back to their original state. When this happens, the lace is lifted, firmed and toned to a more youthful appearance. At the same time, the microcurrent improves circulation to your face which stimulates production of collagen, improves tone and texture, and eliminates fine lines.
Acoustic vibration function – Massage, clean
It's main functions: promote blood circulation, accelerate metabolism, make the skin more tighten and bright. Everyone's face has at least more than 300,000 zero pore, introduced effectively cleansing pores deep oil, clean the oil residue in pore, can reply from deep clean skin.

Design
High-end built quality and sate-of-the art design
Compare
Advantages by Comparison
Microcurrent works with the facial muscles to stimulate and tone. Microcurrent is also known to increase collagen, elastin circulation, ATP and product penetration.
Galvanic only penetrates product deeper and delivers no benefits to the muscles.
Non-invasive facelift
Reduce and eliminate fine lines and wrinkles
Improve facial circulation
Improve hyperpigmentation and acne
Increase product penetration
Skin hydration 3nd revitalization, resulting in smoother and softer skin
Decrease of puffiness and edema
Restoration of the "pink glow" of youthful toes
Visible firming and contouring, lifting overall drooping features
Tightening of sagging jowls, doubling chins and fatty cheeks
| NEW PROtoner | |
| --- | --- |
| Voltage | AC100~240V/50-60Hz |
| Battery Volume | 650mAh |
| Charging Time | 1.5H |
| Material | ABS Plastic |
| Package Size(cm) | 29*29*12 |
| Gross Weight | 1.0Kg |
Research results:
In an independent clinical study on Facial Toning Device, 5-minute daily use for 60 days:
– 85% saw improvements in facial contour
– 73% saw improvements in skin tone
– 73% saw improvements in facial tone
– 80% saw smoother skin
We have a laser technician/engineer with us at the moment who is going through all the equipment we received from GBS to ensure the outputs and all in good order so that we can get working. His general consensus is that the machines are of a better standard than he has seen on some other Chinese machines. We told him that is why we elected to go with GBS.
Just wanted you to know that i received the machine and it is working well. I am very happy with it.
Thank you for staying in touch. We are very pleased with the performance of the cavitation machine.  We will be placing in order soon for another machine.
Just thought I've give you some positive feedback about the cavitation machine. I've used it on myself about 5 times now and have lost over half a stone (around 8 pounds). I really like the machine and it's really comfortable to use.